HEBRON — Thayer Central senior Jay Cottam had big plans for his final season of high school. And, while all of his goals are still right in front of him they came on a path he wasn't expecting.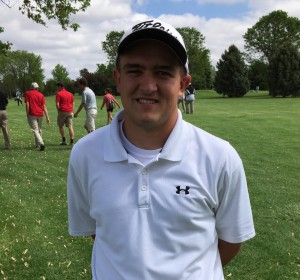 The quarterback for the Titan football team and a guard on the basketball team, Cottam's world made a swift change in mid-December. And, put in jeopardy a golf career that has included a pair of individual runner-up finishes at state the past two seasons.
After the Titans basketball game with Fairbury on December 13th, he could barely get around school the following Monday. He sat out of practice later that day and when it was over, he couldn't walk home — his house is across the street from the gym.
"We didn't have a clue what was going on," Cottam admitted. "But, I was in a lot of pain."
The next week included a trip to the emergency room and frustration at not being able to come up with a diagnosis. He was tested for multiple viral infections and a bone tumor.
Finally on December 22, he was admitted to the Nebraska Medical Center in Omaha. At the Med Center, Cottam was diagnosed with a rare staph infection that, thankfully, required only a heavy dose of antibiotics and rest to heal. He was sent home to recover on the 27th.
"Being (at the Med Center) for five days really makes you appreciate things," said Cottam, where he was treated by the world-renowned infectious disease doctor Angela Hewlett. Hewlett was the lead doctor for both Ebola patients that were flown to Omaha for recovery.
After nearly eight weeks of daily IV treatment of medicine and an in-home nurse to monitor progress, Cottam returned to the basketball court for the final six games of his senior season.
And, he hasn't missed a beat on the links.
"I think I have played ok this spring," the Nebraska-Kearney golf recruit said. "I still have a little bit of pain, but nothing that affects me much when I play.
"I am just trying to improve everyday. I don't like to settle."
And, as the Titans head to Lincoln for district play on Tuesday, Cottam will look to continue his senior season dominance which has included eight wins in nine meets and a scoring average of 73.78.
He and his teammates also hope to add to the Titan trophy case, as they have won the Class D state title the past two seasons, but make the move up to Class C this year.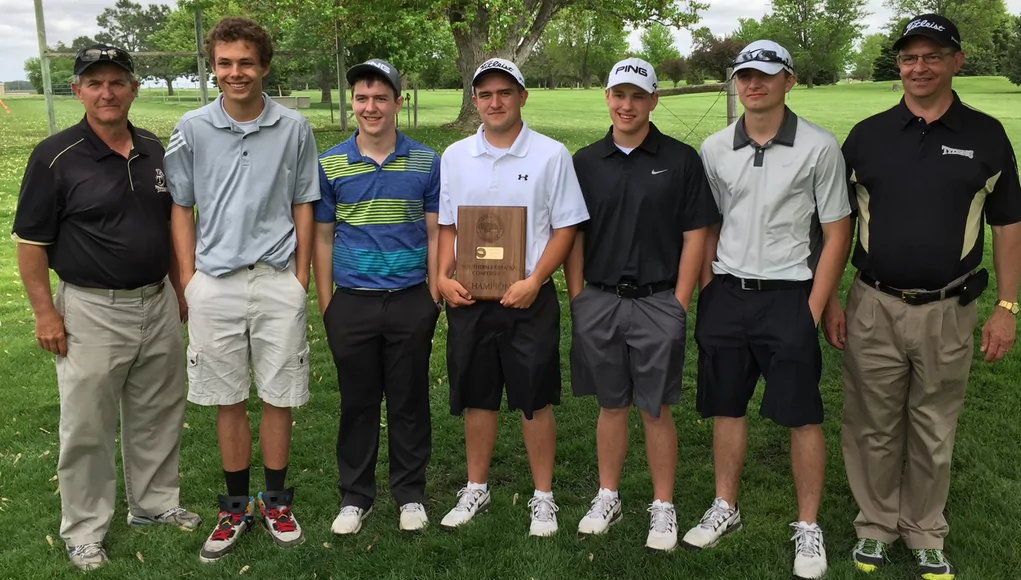 The Titan five – which also includes Ben Baden, Caleb Krupicka, Thomas Feulner and Max Madsen – has won five of nine meets, including their last two at the Southern Nebraska Conference meet in Henderson and their home invite last week.
In addition, Thayer Central was second at meets in Beatrice and at the St. Cecilia Invitational in Hastings where both fields had many Class B teams.
"Those are the best meets to go play against the best competition," Cottam said. "We got to face some good teams this year. It is our goal to win state and we'll have to really play our best to win Class C."
This three year run of success for the Titans, might end up being Kent Cottam's fault. His little boy loved playing golf so they spent many summer days at the Hebron Country Club.
Then, Jay started bringing his friends. Classmate Ben Baden started tagging along in fifth grade and finished fifth at state last year when the Titans won by 13 shots over Overton. As a sophomore, he finished tenth when TC won their first title by 36 shots over Bancroft-Rosalie.
"My dad was a big influence in getting me started in the game," Jay said. "And, Ben and I play together all the time now. Even, our other players, it really kind of clicked for them when they were freshmen. It's been fun to see them come along."
Cottam has also had recent success on the summer circuit. He had the low qualifying score at the Nebraska Junior Match Play in McCook last summer and was fourth in the Junior Amateur, earning a spot on the prestigious Nebraska Junior Cup team that plays annual matches against Kansas.
He hopes that experience might help him get the one thing that's missing: an improvement off his last two state runner-up performances. He lost a three-shot lead last year before losing in playoff and was second by two shots as a sophomore.
Still, he puts his teams wins over the personal misses.
"The last two years have been really fun. Winning the state title is what it's all about and that will always be my first goal, helping the team win," Cottam said. "Last year, I choked to be honest. This year, it'd be nice to go win them both.
"Playing against everyone in the state (in the summer) has really opened my eyes to how much better I needed to be."
Good enough, hopefully, for one more shot at a some more hardware for the Titan trophy case.