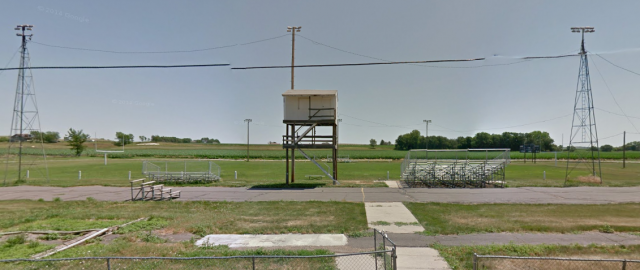 At the Pump & Pantry in North Loup, Glen Snodgrass and Matt Kern learned that football — even 8-man high school football — could teach, create lifelong bonds and bring together a community.
"Every Saturday morning during the fall you'd go in there," Snodgrass said last week, "and the old guys were drinking coffee and they wanted to break down the game from the night before."
In three short years at York High School, the high school teammates from North Loup-Scotia have reunited and felt that same feeling of community togetherness as they have taken those small-town principles of hard work, discipline and character and instilled them into the Duke football program. In the process, the Dukes ended a 21-game winless streak in 2011 and made it all the way to Class B state title game last fall.
****
Neither Snodgrass or Kern had a care in the world in the fall of 1993. Life revolved around football, some farm work and school. Probably in that order.
Snodgrass was a dominant football and basketball player for the Wildcats and expectations for football were high after returning much of the team that had been to the playoffs in 1991 and advanced to the second round in 1992. Kern was the junior quarterback.
"Looking back, I can't say enough about our coach (Rod Edson) and the work ethic he taught," Kern said. "A lot of us lived on the farm, we put in our time together in the summer. Most of us played three sports.
"We were pretty blue collar."
The wins piled up that fall as the Wildcats entered the playoffs 8-1 and steamrolled Adams 47-6 in the Class D-1 state finals for the school's only state football championship.
"When I think back on some of the best times I had in my life, it was playing games with my buddies in high school," Snodgrass said. "We grew up with a culture of work ethic and respect and it really shaped who we are as people. I think all those guys who were on that team in 1993 will tell you it shaped them.
"When I go back to North Loup, almost every time someone asks me about that team."
One of the few things left on the wall at NLS. The greatest football team in NE state history. @CoachGSnodgrass pic.twitter.com/QOF1cgDKwE

— Matt Kern (@Coach_Kern) May 24, 2014
That spring, the Wildcats played in the Class C-2 state basketball tournament. Then, college happened.
Snodgrass was a standout basketball player for Concordia University in Seward. He still holds the school record for blocks in a career and is eighth on the career rebounds list with 607. The Bulldogs were an annual participant in the NAIA Division II National Tournament. For good measure, he returned to the football field during his fifth year of school and was named all-conference.
In 1995, Kern went to Blair where he was two-sport athlete in football and baseball for Dana College, graduating in 2000.
But, the values from North Loup-Scotia still held true: discipline, hard work, character.
Off they went after graduation, Snodgrass to Overton and Kern to Wisner-Pilger. They started families.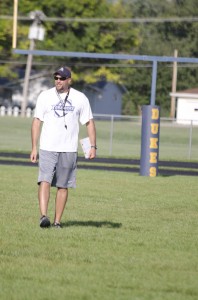 Snodgrass built one of the most dominant 8-man football programs this side of Howells with the Eagles. After missing the playoffs in two of his first three seasons, Overton went to the playoffs every year from 2002-2010; playing in the state finals three times and winning Class D-1 in 2006. Snodgrass had chances to leave, but the timing was never right.
"I had a chance to take some other jobs, I even had the chance to go to York in 2002," Snodgrass admitted. "But it never felt right."
In 2006, Kern came to York to teach and coach girls basketball. He was also a freshman football coach, but was not on the varsity staff. After an 11-1 season at Overton in 2010, the timing was finally right in the spring of 2011. Snodgrass would leave for York.
Eighteen years after winning a state championship, Snodgrass and Kern would assemble a staff that would take over a nobody — the Dukes had lost 20 straight games.
"It was probably the hardest decision of my life," said Snodgrass. "Overton was so good to me, but I knew they would be in good shape if I left. There was just something nagging at me inside. I wanted the challenge, I guess."
****
Believe.
How do you make kids that have not experienced success believe they can win? It was the first hurdle.
"I always thought York was a good situation," Snodgrass said. "It was one school and one town. You don't always get that in Class B. They were always pretty good at track so you knew you had the speed. We had to get them in the weight room.
"The biggest hurdle was getting the kids to believe they could compete."
Almost immediately, Kern knew the Dukes had a winner in his high school buddy.
"He brought with him a great background in winning," Kern told me. "He established discipline, accountability and respect right away. You could tell the kids bought in."
It took two nights for the Dukes to get their first win. It was just their second game with Snodgrass and a lightning storm delayed the start of the Schuyler game to near 11:00 p.m. By 1:30 on Saturday morning, York had defeated the Warriors 48-10 and Snodgrass looked in the stands.
Nobody had left. The Dukes — starving for success — had found it.
"Our kids went nuts," Snodgrass said. "All the students were still there. I looked over at Matt after that game and I said, 'What would happen if we were really good?'"
They were about to find out. While they won only one more game in 2011 — the very next week against Fillmore Central — a foundation had been poured and most of their guys were coming back.
Success came slow in 2012. The Dukes split their first two games, but then lost to Beatrice and Seward for a 1-3 start. Believe. And, then all of a sudden.
York 21, Holdrege 6. York 33, Schuyler 0. York 21, Columbus 7.
The Dukes had done in three weeks, what they had done in three years before travelling to Grand Island to face 5-2 Northwest, who, a week earlier, had trounced No. 4 Aurora 54-0.
Kern drew up the game plan to stop the top passing offense in Class B. Four men and hope you get pressure. Guard everybody else. Keep the game in front of you. The Dukes ran 19 plays to Northwest's 51 in the first half and were down just 3-0. Believe.
On the first play of the second half, Eric Buller took a pitch right at the Viking sideline, went 80 yards for a touchdown and the Dukes were on their way to a 21-10 win over eighth-ranked Northwest.
"I am so unbelievably proud of these kids," Snodgrass told The Grand Island Independent after the game. "We aren't the most talented team, but I'd like to think that right now we are playing harder than anyone in Class B."
He was right. All those things — hard work, discipline, character — had come to fruition. Kern remembered it well.
"That was a fun night," Kern said. "We felt so confident in our game plan that night. That game really put us over the top. There was a special focus with our team. It was a big moment for us."
A week later, Aurora defeated York for the district crown and Snodgrass and Kern thought they had put a wrap on an ultra successful 5-4 season. But, things fell into place after the game as Snodgrass was giving his end of season speech and the Dukes snuck in the as the final team in the Class B playoffs.
"We had our hugs," Snodgrass admitted. "We didn't think we had much chance of getting in the playoffs and then things fell into place. What happened after that was pretty special. We had a great group of young men with outstanding character."
Seven hours in a bus to face top-seeded and unbeaten Scottsbluff. The Bearcats had beaten all the western powers already: McCook 17-7, Aurora 32-8, Northwest 23-21. But, on a late Friday afternoon in early November, they couldn't get another win. The Dukes stopped Scottsbluff early, used a couple big plays and came home with a 28-9 win.
The next Friday, just a little more than one year removed from ending a 21-game losing streak, the Dukes were hosting defending champion Elkhorn in the quarterfinals. Believe. Before a packed stadium, York fought and clawed with the Antlers. A late fourth-down conversion was just short. Elkhorn 10, York 7.
"That inch we missed, became our calling card last year," Snodgrass said. "'Earn that inch' was what we kept telling our kids. Do that extra rep in the weight room. Do what you can to fight for that inch."
That game also solidified Snodgrass' decision he had made less than two years earlier to take on the challenge at York. He had found he had a whole community with his football team.
"I'll contend for a long time that game against Elkhorn was the best atmosphere I have ever seen at a football game," Snodgrass said. "There is not a doubt in my mind the best fans of high school football in this state live in York."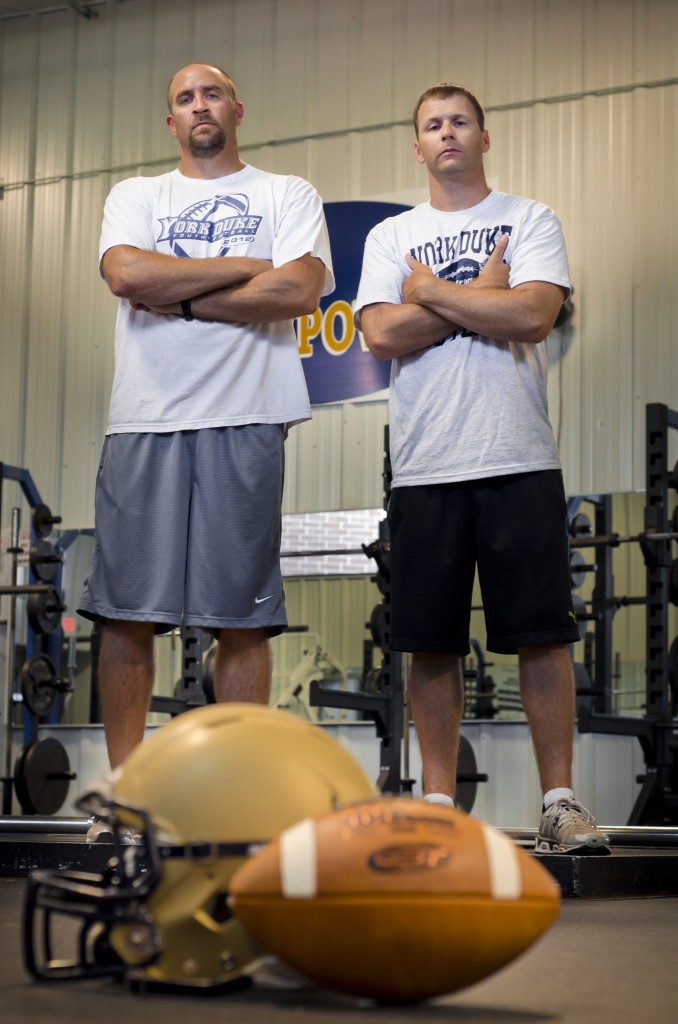 And, so it went. A foundation in place and all the pieces returning, York didn't miss a beat last year. There was a week three wake-up call against Beatrice, but the Dukes won their eight regular season games by a combined 281-67 margin. One North Loup-Scotia kid calling the plays, the other coordinating a defense that didn't give up more than 18 points in any of the eight wins.
The playoffs turned into a blur: York 26, Scottsbluff 13. The all-timer against Ralston where Kern had no answer for Isaac Wallace, but somehow the Dukes survived, 42-41 in overtime. In the semifinals, the tables turned. A defensive battle: York 12, top-ranked Gretna 7. Could it possibly be that in a little more than two seasons the Dukes would play for a championship?
"If you'd have told me it would happen this fast, I'd have laughed at you," Snodgrass said. "I didn't think it would happen as fast as it did. I don't think anyone thought we would go as far as we did last year. The last two years have been amazing."
So, there they were, Glen Snodgrass and Matt Kern — 20 years later — on a bus to the state finals. A parade sending them out of York to Memorial Stadium. With their team. Thinking about those Friday nights with their buddies, Saturday mornings at the Pump & Pantry and how it was the best time of their life.
"We talked about it with the kids last year a bunch," Kern admitted. "We shared those stories with them and what it meant to the community. And, we told them it would last. They would be friends for the rest of their lives."
The final score — Omaha Skutt 30, York 0 — won't matter in 20 years. The relationship that were built will last, though.
On Friday, they start it all over again.
New bleachers at the old baseball stadium that Snodgrass wouldn't trade for the world. A staff that is "second to none" according to the head coach. There are holes to fill, but now there is a different feeling in those old gold helmets.
"The kids expect more now," Snodgrass said. "We don't really talk about losing so much anymore. The plan is to win."