GRAND ISLAND — The smile on Kayla Bachle's face said a thousand words on Monday after she completed four events at the Central Nebraska Track Championships with two gold medals and two silvers.
"It was a really nice day," said Bachle, a Grand Island Northwest junior. "I was just happy to get out there and perform all of my events."
On Monday, Bachle traded the 1600 meter relay for the long jump and she is still uncertain what will be her fourth event when they head to districts in a few weeks.
She won gold in the long jump (17-1) and the 100 hurdles (15.01) where she bettered her school record time. In the 300 hurdles, she was second to Ord's Tori Beran and she was on the 400 relay that took second to Hastings St. Cecilia.
One thing is certain, she's locked into the 100 hurdles where she left the field in the dust, winning by nearly a second. Just missing finals at state last year has motivated her to make it her best race this year.
"Missing the finals made me change my mindset for the race and get back and achieve what I want to do in that race," she said. "It's a momentum and a confidence race.
"I just love competing in it."
She leaves Northwest head coach Brandon Harrington with a tough decision as he sets his lineup for districts.
"It's still up in the air with my five events, I am not sure what I am going to do," Bachle said. "It really depends on where the points are. I just tried to think mind over body today.
"This meet is a big confidence boost."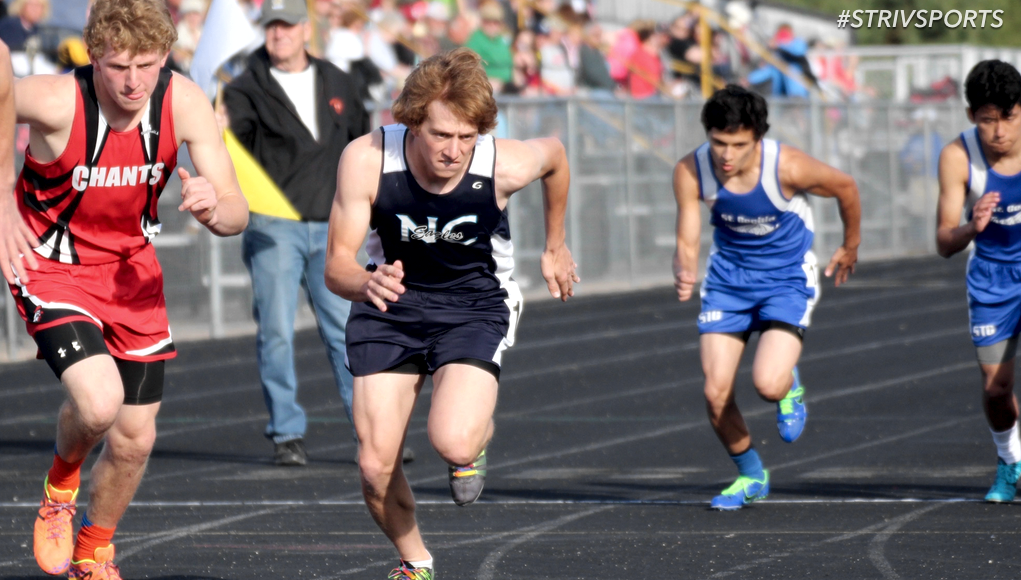 On the boys side, Nebraska Christian's Warren Dexter was just happy to compete at the meet.
He ran the 1,600 meters as a freshman, but the meet was rescheduled his sophomore season and called off after the 100 meter dash last year.
"Running this meet is a big privilege," said Dexter, a Nebraska-Kearney track recruit. "It's not very often we see this kind of competition. This really prepares you mentally for districts and state."
Dexter's day was nearly perfect.
He won both the 800 and 1,600 over Aurora's Ethan Bergmann with times of 2:01.78 and 4:37.29, respectively. He anchored the 1,600 meter relay for the Eagles and was edged at the tape by Boone Central's Zach Glidden. The Cardinals winning time was 3:32.13 to NC's 3:32.33.
"We had about a 2:15 split at the half mile in the 1600 so I knew that would be a quick race," Dexter said. "I was really happy with that time. We had kind of a slow 400 to open the 800, but I had a nice last lap and felt good after that race."
Dexter and Bachle joined two other athletes from Striv schools who were double winners at the meet sponsored by the Grand Island Independent.
Northwest's Megan Billington set meet records in the 1,600 (5:09.51) and 3,200 (11:18.37) and was named the girls outstanding athlete.
Cross County's Aaron Giannou won the 400 (50.37) and teamed with Kelly Cliffords, Aaron Tidyman and Travis Eller to win the 3,200 relay in 8:29.90.
In all, Striv schools won eight boys events and eight girls events. Full results can be found here.