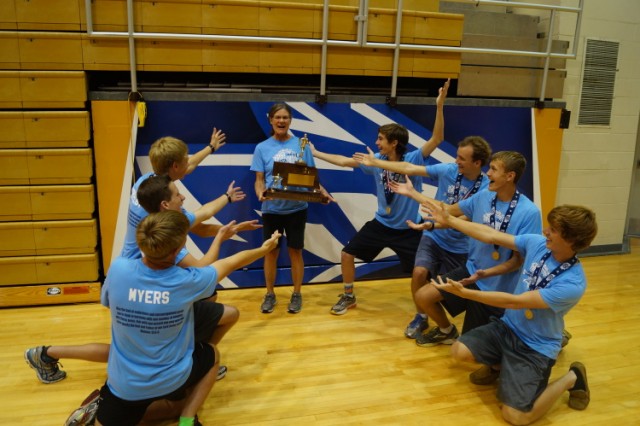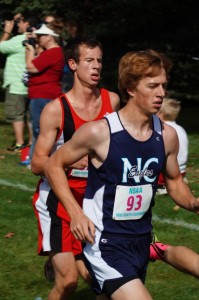 The Nebraska Christian's boys and girls cross country teams, led by Coach Janet Landrigan, had eight qualifiers for October 24th's Class D NSAA State Cross Country Meet in Kearney, Nebraska. Junior Katie Cumpston and sophomore Alyssa Prettyman were the two girls to qualify from Nebraska Christian, and the six boys to qualify were senior Warren Dexter, junior Nolan Kohmetscher, senior Adrian Epp, freshman Brennan Nokelby, junior Jerod Prettyman, and junior Cameron Langemeier.
With a very talented group of runners, the boys' team took Class D State Champion honors with 29 points to runner up Ainsworth's 42 points. Individually, Warren Dexter placed 2nd (16:43.4), Nolan Kohmetscher placed 9th (17:26.4), and Adrian Epp placed 15th (17:40.6) in order to medal in Class D. Brennan Nokelby placed 16th (17:45.0), Jerod Prettyman was 38th (18:31.8), and Cameron Langemeier placed 107th (20:10.7) for the Eagles.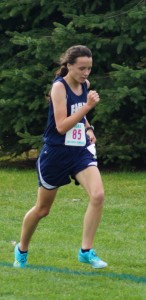 For the girls' team, Alyssa Prettyman placed 21st (21:38.0), and Katie Cumpston came in 25th (21:49.0). Alyssa Prettyman said, "God has taught me to be thankful in however I do at a meet, and to trust that even if I feel like it's not my best race, God has a plan, and it is what it is. [I'm] Just learning to be content with however I do."
Coach Landrigan said, "It was awesome to go to practice and see God at work in a bunch of people coming together to run miles and miles! The humbling thing is that we were blessed with what the world would call success. The night before State we reflected on all that had been learned and accomplished. We then concluded that no matter what the outcome [of the State Meet], even if we came in 10th place, we could say it was a good season."
Indeed, it was a great season for both the boys' and girls' teams. With a new group of runners added to the team this year, the team really did have to come together, and the older, more experienced runners helped the new team members. Freshman Brennan Nokelby said, "One person I would like to give thanks to this season is Coach Landrigan; I think that's who we should thank a million times over. She is a great coach, and we wouldn't have gotten to State without her."
In reply, Coach Landrigan said, "God gave me the energy to do the extra. He gave me joy in the routine and mundane. He provided opportunities and the means to be generous with the team. He helped me to be patient with those that were struggling, and gave insight for the different levels of runners. He blessed my interactions with other coaches. For the difficult things, He provided wisdom and grace." The glory goes to God for another successful cross country season.
Nebraska Christian Journalism Staff
Written by Hope Baldwin, a member of the class of 2015. She is from Central City.