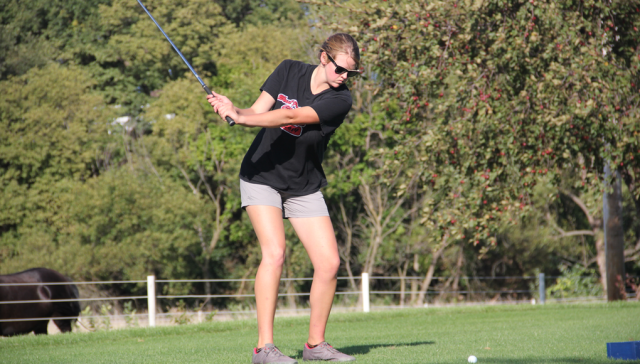 West Point-Beemer's Lacie Fox shot a second round 81 at North Platte's Lake Maloney Golf Club on Tuesday to earn medalist honors at the Class C girls state golf championships. After a first round 79, Fox shared the lead with Cozad's Kaylei Becker heading into the final round.
Becker and Fox were tied through 11 holes, but Fox's steady play over the final seven holes (four pars and three bogeys) won the title for the Cadet junior. Becker shared second place with Doniphan-Trumbull's Brandi Lemek and Chadron sophomore Ricki Hickstein at 164 for 36 holes.
Lincoln Lutheran won the team title in Class C by 49 shots with two-day total of 706 over D-T with 755. Battle Creek was third and Cozad fourth in the team race. Other Striv schools in the team race were West Point-Beemer (8th), Dundy County-Stratton (9th), Fullerton (12th), Chadron (14th) and Shelby-Rising City (15th).
Cozad freshman Abigail Cornelius also earned a medal with a two-day score of 174 (88-86).
At Quail Run Golf Course in Columbus, Crete's Murphy Sears earned her second consecutive medal as she finished fifth with a two-day total of 171. She followed a first round 90 with an 81 on Tuesday. York's Sam Redfern tied for 8th with a two-day total of 173 and rounds of 89-84. In the team race, Omaha Duchesne was the champion earning a 10-shot victory over Scottsbluff (717-727). McCook finished sixth, York seventh and Grand Island Northwest 11th in the team race.
Class B Medalists
5th — Murphy Sears, Crete 90-81-171
8th — Samantha Redfern, York 89-84-173
Other Striv scores:
Kacee Samway, McCook 97-89-186
Hannah Cole, McCook 92-99-191
Cassidy Redl, McCook 94-101-195
Emily Jeffers, Northwest 97-104-201
Hannah Baum, Crete 101-101-202
Nicole Phinney, Northwest 100-103-203
Payton DeMers-Sahling, York 106-100-206
Camryn Wiens, York 104-104-208
Alexandra Rauert, York 105-104-209
Anna Korte, Northwest 108-103-211
Hannah Klanecky, Northwest 119-99-218
Corinne Bortner, McCook 113-107-220
Holland Stagmeyer, McCook 111-119-230
Avery Fernau, York 109-124-233
Madelyn Rivera, Northwest 118-117-235
Class C Medalists
1st — Lacie Fox, West Point-Beemer 79-81-160
2nd — Ricki Hickstein, Chadron 83-81-164
2nd — Kaylei Becker, Cozad 79-85-164
12th — Abigail Cornelius, Cozad 88-86-174
2015 Class C girls golf state medalists. #nebpreps @strivsports pic.twitter.com/CSFliDhUFT

— Derek Noehren (@NPT_Derek) October 13, 2015
Other Striv scores:
Payton Zarkowski, DCS 95-86-181
Kylee Sorell, Boone Central 102-92-194
Anna VanderGriend, WP-Beemer 103-96-199
Emily Klooz, LCC 102-97-199
Hally Waters, DCS 106-94-200
FayeLee Sanford, DCS 101-100-201
Tazah Weinmaster, Cozad 99-102-201
Brooke Young, LCC 98-107-205
Tori Hellbusch, Fullerton 102-104-206
Lily Pickrel, Fullerton 101-109-210
Katherine Shotkoski, Fullerton 105-110-215
Halle Brigham, Shelby-RC 105-111-216
Emily Neujahr, Shelby-RC 109-109-218
Cheyenne Ostrander, Fullerton 111-110-221
Paige Meier, WP-Beemer 118-105-223
Natalie Wingard, Shelby-RC 113-111-224
Alexandra Linder, WP-Beemer 121-104-225
Alyssa Noble, Chadron 123-106-229
Monica Hinkle, Shelby-RC 117-115-232
Aaliyah Wilkins, Cozad 119-117-236
Madison Haines, DCS 118-118-236
Madeline Erb, WP-Beemer 120-121-241
Taurie Pourier, Chadron 127-116-243
Katarina Dodd, Chadron 126-124-250
Andrea Neill, Cozad 135-121-256
Ahlaura Pourier, Chadron 139-120-259