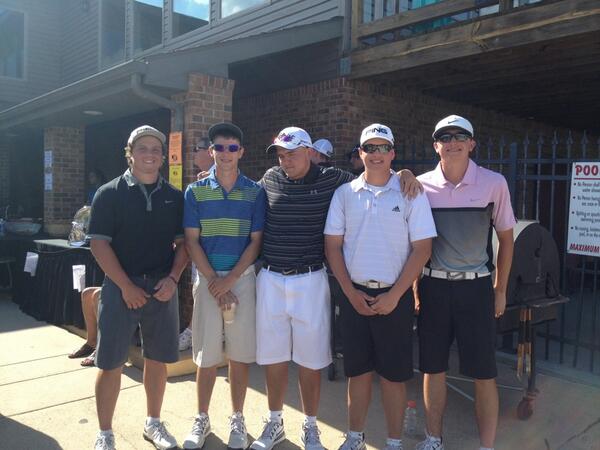 Class D Thayer Central Boys Golf team. Photo Courtesy of @TC_Titans Twitter account.
We'd like to congratulate all of the Striv Student Athletes that qualified for the Boys State Golf Tournament this year.
Also a congratulations to the McCook Bison and Thayer Central Titans on winning the team championships in Class B & D.
Class B – Indianhead Golf Club (Par 72)
Individual Results:
T-3rd – Mackenzie Alspaugh McCook; 72/73 = 145
5th – Noah Hofman McCook; 75/73 = 148
T-6th – Lucas Grossnicklaus Aurora; 77/72 = 149
T-6th – Leighton Thomas York; 72/77 = 149
T-28th – Riley Loop McCook; 79/78 = 157
T-35th – James Mitnik McCook; 80/79 = 159
T-45th – Hayden Sandall York; 86/80 = 166
T-45th – Jared DeMers York; 85/81 = 166
T-45th – Benjamin Skiles McCook; 83/83 = 166
T-54th – Nicholas Christiansen Fairbury; 91/84 = 175
T-68th – Kyle Haarmann York; 93/98 = 191
70th – Tyler Dewey York; 96/96 = 192
Team Results:
Class B – 1st McCook
McCook +15 F +33 306 303 609
Noah Hofman +1 F +4 75 73 148
Mackenzie Alspaugh +1 F +1 72 73 145
James Mitnik +7 F +15 80 79 159
Benjamin Skiles +11 F +22 83 83 166
Riley Loop +6 F +13 79 78 157
Class C – Mahoney Golf Course (Par 70)
Individual Results:
T-8th – Hunter Quinn Southern Valley; 71/80 = 151
T-18th – Benjamin Danielson David City; 75/80 = 155
23rd – Mitchell Klooz Laurel-Concord; 86/71 = 157
T-31st – Jamy McCoy Laurel-Concord; 73/87 = 160
T-35th – Tylar Samek David City; 83/78 = 161
T-39th – Wade Backstorm David City; 81/81 = 162
T-44th – Martin Phillips David City; 80/83 = 163
T-47th – Nathan Grossnicklaus Shelby-Rising City; 80/84 = 164
T-50th – Brendan Groene Laurel-Concord; 86/79 = 165
T-50th – Tristan Stock Doniphan-Trumbull; 79/86 = 165
T-60th – Kyle Bailey Fillmore Central; 88/84 = 172
T-60th – Kurt Karcher Fillmore Central; 85/87 = 172
64th – Trak Lewis Southern Valley; 86/87 = 173
T-66th – Brandon Burklund Fillmore Central; 87/88 = 175
T-76th – Wyatt Kastl David City; 96/82 = 178
T-79th – Cory Peterson Laurel-Concord; 93/86 = 179
T-82nd – Tyler Taylor Twin River; 88/92 = 180
85th – Thomas Norvell Fillmore Central; 91/92 = 183
89th – Chance Best Southern Valley; 95/90 = 185
T-90th – Matt Loseke Fillmore Central; 93/94 = 187
92nd – Trent Krejdl Southern Valley; 94/96 = 190
93rd – Alex Kaup Southern Valley; 102/92 = 194
98th – Nolan Casey Laurel-Concord; 110/110 = 220
Team Results:
Class C – 2nd David City
David City +41 F +80 319 321 640
Wade Backstrom +11 F +22 81 81 162
Wyatt Kastl +12 F +38 96 82 178
Martin Phillips +13 F +23 80 83 163
Tylar Samek +8 F +21 83 78 161
Benjamin Danielson +10 F +15 75 80 155
Class D – Kearney Golf Club (Par 71)
Individual Results:
2nd – Jay Cottam Thayer Central; 71/79 = 150
5th – Benjamen Baden Thayer Central; 83/75 = 158
T-16th – Logan Fleming High Plains Community; 87/80 = 167
T-16th – Wyatt Fleming High Plains Community; 86/81 = 167
T-19th – TJ Ostransky Fullerton; 82/87 = 169
T-19th – Ethan Shotkoski Fullerton; 82/87 = 169
24th – Tristan Sheridan Sutton; 85/85 = 170
26th – Thomas Feulner Thayer Central; 87/89 = 176
T-29th – Colin Nathan Fullerton; 94/85 = 179
T-36th – Caleb Krupicka Thayer Central; 91/91 = 182
T-41st – Garett Saum Fullerton; 96/89 = 185
49th – Cody Filipi Exeter-Milligan; 102/88 = 190
54th – Drew Steinhauer Sutton; 96/97 = 193
T-55th – Andrew Pawlowski Sutton; 99/95 = 194
61st – Jared Lemkau Sutton; 98/98 = 196
T-70th – Cole Klingsporn High Plains Community; 103/99 = 202
T-78th – Gage Horacek Fullerton; 101/106 = 207
82nd – Jacob Kniep Thayer Central; 103/107 = 210
T-87th – Mathew Miller Sutton; 112/109 = 221
95th – Morgan Miller High Plains Community; 127/127 = 254
96th – Bryce Wilshusen High Plains Community; 140/129 = 269
Team Results:
Class D – 1st Thayer Central
Thayer Central +50 F +98 332 334 666
Jay Cottam +8 F +8 71 79 150
Thomas Feulner +18 F +34 87 89 176
Benjamen Baden +4 F +16 83 75 158
Caleb Krupicka +20 F +40 91 91 182
Jacob Kniep +36 F +68 103 107 210