Nebraska Basketball's Greatest Day
By Tony Chapman
Striv Sports
There are days that are great in the moment. Those days that you won't ever forget where you were and what you did.
And, there are days that get better over time. It's rare that the same one does both when analyzed in history.
But, that is exactly what happens when you look back on Saturday, March 11, 1989.
It was a day of spectacular basketball at the 79th State Tournament in Lincoln. It was a day of miraculous comebacks and once in a generation teams; a day where two schools – from the same county – battled for a small school title; and, a day where fathers and sons won championships together.
After you read this, you'll smack yourself trying to remember if you were in the Bob Devaney Sports Center for the Class A and B finals on that Saturday night. Take a poll and maybe you'd find 30,000 people were crammed into that 13,000 seat arena that night. You just had to be there, right?
It was the end of the day that many remember: Wahoo scored six points in the final 11 seconds to force overtime and eventually beat Lincoln Pius; and Millard South getting Matt Kelly's late bucket to upend Columbus and complete Class A's first undefeated season in 29 years. They finished that season ranked nationally by USA Today – still the only Nebraska team to accomplish the feat.
But what else happened that day? What was the prelude to that unforgettable night session on Nebraska's finest day? Did other great teams, players and coaches take the floor? The answer is a resounding yes.
So, hop on. Let's go for a ride. We'll take you through that day when the coaches that won those six titles – Larry Ribble, Mick Anderson, Steve Spongberg, Larry Pritchett, Doug Goltz and Jerry Eickhoff – combined for nearly 3,100 career wins. We'll look back, reach out to people that were involved, find out what basketball meant to them, how it propelled them into the future and how it taught them about life.
***
Oh, you are going to Lincoln on Thursday? Good. When you get there – get snuggled up with that frozen malt and nachos – open up your program. Find 1989. Close your eyes.
Coach Lou Holtz and his do-everything quarterback Tony Rice won the football national title in January. Football does not yet know the zone read or the spread. It knows double tight ends and the option from the wishbone.
In a few weeks, Rumeal Robinson from Michigan is going to hit some clutch free throws to win the national title at the Kingdome in Seattle over Seton Hall. The building isn't there anymore.
"Lost in your Eyes" by Debbie Gibson is the No. 1 song on the Billboard chart.
The NBA is must see TV. The Pistons denied the Lakers a chance at a three-peat that summer. Jordan, Magic, Bird and Isaiah were the talk of the town. Kareem Abdul-Jabbar retired after the 1989 finals.
Troy Aikman, Derrick Thomas, Deion Sanders and Heisman Trophy winner Barry Sanders are going to be four of the first five picks in the NFL draft in April. Nebraska's Broderick Thomas, is right behind them. In Nebraska, football was still king and Danny Nee is two years away from NCAA Tournament teams.
Nee is preparing for the NIT but on this Saturday night, he'll set his eyes on a sophomore from Wahoo. He's just signed his first Nebraska kid who can do some dirty work that he can surround with talent: Atkinson's Bruce Chubick.
Basketball is flourishing in Nebraska. The first day of the tournament draws nearly 45,000 people. By Friday and Saturday night, there are no seats left at the Devaney Center. The select team has just barely been invented. Kids just play together in their own gym in the summer. They learn how to be teammates.
Sutton, the eventual C-1 champion, is going to set the class scoring record that still stands. In 1990, Falls City Sacred Heart will defend its 1989 title and set the D-2 and all-class scoring record. The team they beat in the 1989 finals, Maxwell, will set the D-1 record in 1991.
Quick, turn to the list of the top scorers in state tournament history and you'll find three of the top-five are here in 1989: the smooth operating Wahoo sophomore Jason Glock, Sacred Heart's glue for four state titles Steve Simon, and Jay Spearman, Sutton's do-everything big man.
In the panhandle, Alliance is scoring at a record pace. One of the smallest Class A schools – they had played the Class B state tournament the previous year – the undefeated Bulldogs scored no less than 80 points in every game until Columbus beat them 72-62 in the semifinals on Friday night.
We are just starting to hear names that will turn into stars soon: the aforementioned Glock, Strickland, Woolridge. Others there on this night will go on to bigger stardom. Millard South star Dale Ribble – the coach's kid – will play in two NCAA Tournaments and two NITs for Southwest Missouri State.
Other players in that program will be small college stars: Nielsen, Mueller, Scheidegger, Kissinger, Spearman, Gilson, Simon. This list is long. And, small colleges were talented, too. Consider on Wednesday night, Hastings College had qualified for the NAIA National Tournament. Their first round opponent in 1989 was Belmont. Yes, that Belmont.
The coaches on that Saturday have touched lives for decades – six of them to be exact. Think about that for a second. One of them, Sacred Heart's Goltz, he's still there this week. To give you an idea of how good they were, the one who would end up winning 114 straight games at Wahoo – Anderson – he is sixth on the list of six for career wins. Four of them are in the Nebraska High School Sports Hall of Fame. Goltz and Spongberg are sure fire bets when their time comes.
***
The breakfast game that morning featured Grant and Deshler in the Class C-2 final. Grant coach Larry Pritchett was already one of the most respected coaches in the state. The Plainsmen were a fixture at the state tournament in the 1980s, so it was appropriate that they'd finish the decade off with another state title.
They won 52 games without a loss in 1981 and 1982 behind Bill Jackman, who was part of a Duke recruiting class that featured Marc Alarie, Johnny Dawkins, David Henderson and Jay Bilas. Jackman would later transfer home and finish his career as a member of Nebraska's first NCAA Tournament team in 1986; the same year Duke made its first Final Four appearance with Mike Kryzyzewski.
Even without Jackman, Grant played for the inaugural C-2 title in 1984 losing to Henderson, but won the next year in 1985. The 1989 team was part of another run that began a three year span of state finals teams. In the 27 years from 1966-1992, the Plainsmen qualified for the tournament 20 times and played in the state finals a dozen.
But, Pritchett, a self-admitted "dummy", was not there in the early 1980s. He came to Grant in 1964, fresh out of college as an assistant coach. He was on the bench as assistant for the 1966 title and when he got the head job in 1968, Grant promptly won the state title.
"I thought it'd be like that every year," he quipped last week in an interview. He left Grant in 1973 to be an assistant at Cozad and then the next year went to be the head coach at Imperial. "I really wanted to be a football coach and then basketball just got in my blood. But, I never coached a Jackman. There were five of them and they were all really good."
After seven years out of coaching to run a hardware store, Pritchett came back to Grant for the 1986-87 season. In his second year, they began a stretch of six straight tournament appearances winning titles in 1989 and 1990 and finishing second in 1991. In the five years from 1989 to 1993 – while Wahoo was winning 114 straight – Grant went 106-9.
"And, I always gave (Wahoo coach) Mick (Anderson) heck because nobody knew about us," Pritchett said. He was only half-kidding, of course. Everybody knew about Grant, too.
Deshler, on the other hand, had little hoops pedigree. Under coach Ron Streit, the Dragons had been to state just once in 1980. Their last state tournament win before this run to the finals was in 1943. Much like Wahoo, the Dragons incorporated a trapping 1-3-1 half-court defense that led to a first round upset of Shelby and a 48-39 win over Spencer-Naper in the semifinals. Streit's right hand man that day, Rick Chramosta, learned well. He led the Deshler girls to a state title in 1994 and coached Minden in the C1 girl's title game on Saturday.
After getting by Kenesaw in the semifinals, Grant had little trouble with the Dragons pulling away for a 61-41 win. Carey Lowe had 17 points and 17 rebounds after scoring just 16 points in the first two state tournament games. Future Nebraska linebacker Troy Terwilliger added 14.
But, for Pritchett nothing sticks out more than putting a gold medal around his son's neck. Troy Pritchett scored two points in that final game; 14 years later, in 2003, he coached Malcolm to the state tournament.
"I don't know that there is a better feeling in coaching, than putting a gold medal around your son's neck," Pritchett said.
***
In the 30 years since the NSAA went to six classes for basketball two teams from the same conference have battled three times for the state title outside of Classes A and B. But, only once has a final pitted two teams from the same conference and same county.
Sutton and Sandy Creek are separated by a mere 21 miles. In 1989, they battled twice in the regular season with Sandy Creek winning both times at home. But on the neutral floor in Lincoln, it was Sutton's turn. They would do battle at 11:30.
"We played a lot of games with them over the years," former Sutton coach Steve Spongberg said. "Both teams were really good. We had a lot of talent with the Spearman brothers, but one thing I learned over the years is you have to have role players really accept their role."
Class C-1 was supposed to be a coronation. Chubick – who would head to Nebraska in the fall and play on four NCAA Tournament teams – and Atkinson West Holt had gone 24-0 the year before and were 20-0 heading into sub-district play. But, before the wild card was invented, West Holt was beat by Battle Creek prior to the state tournament ending their winning streak at 45 games. The Braves lost to Sandy Creek on Thursday, 70-66.
So, instead, it was the county rivals. Both survived their way to Saturday. Sutton needed overtime on Thursday to beat Palmyra and the Cougars came from 18 down in the semifinals to beat Scribner-Snyder. It was fitting, however, that one would win. The Southern Nebraska Conference had lost in the C-1 finals each of the past three seasons.
"We thought for many years, that if you could win our conference you were going to be right there at the state tournament," said Spongberg, now in his first season as head baseball coach at Hastings College. "Especially, the conference tournament; we felt like that was a mini state tournament."
It was that way in 1989. The Cougars took the SNC Tournament on their home floor, but in the state finals the Mustangs turned the table. They led 39-27 at the half and kept their distance going home for a 71-62 win behind Jay Spearman's 27 points.
The Mustangs broke Atkinson West Holt's one year old record of 217 points in the three tournament games by scoring 235 points that weekend. The record still stands.
"You know, we always prided ourselves on playing really good defense," Spongberg said. "With the athletes we had, we went a little bit more up tempo that year. And, our role players – Doug George, Matt Maser and Brent Mau – they really accepted their job and made that team go."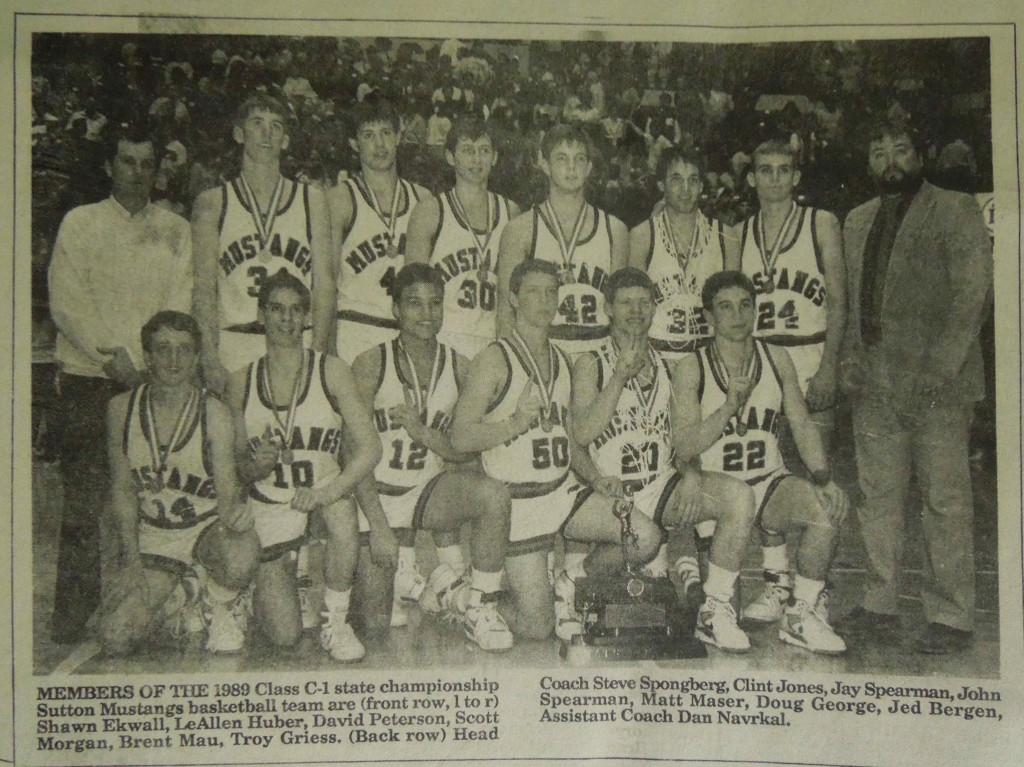 Photo Courtesy of Clay County News
How did Spongberg celebrate? By coaching, of course.
"My daughter had an MIT basketball tournament in Lincoln that afternoon," he quipped. "We won the state tournament; I went and coached her team at 2:30. We won that tournament, too. The team had gone home, but I came back later to watch the night session. It was one of the best days of my life. And, it was one the best days of basketball I can ever remember."
***
In 1989, I was 12. And, when you live in Hampton, you went to school and you shot buckets. If you were in seventh grade, like I was, you could help keep stats. That year, I earned the shot chart for the Hawks.
I loved basketball. Twenty-four years earlier, my grandpa had won a state title with Geneva. In less than a year – 1990 – my dad would win one with the Hampton girls' team. I kept stats for him, too.
Earlier that fall, he had coached the boys that would play for the D-2 hoops title at 1:30 to the state football playoffs. Their season ended in a heartbreaking, first-round overtime loss. It was my job that fall to put stickers on their helmets when they played well. So, I looked up to almost all of those players.
They were talented, but they worked hard, too. They made quite an impression on a seventh grader. They were mostly farm kids, whose dad's grew corn and whose mom's brought out the dinner. One was the coach's son. It was there job to provide an entertaining outlet on Friday night. And, boy did they.
Hampton's coach Jerry Eickhoff – the state's all-time wins leader – was a sort of basketball zen master. When his team's took the floor, they were always more prepared than the other team. Always. He loved hoops so much that his annual summer Mid-Star Basketball Camp attracted kids from all over the Crossroads Conference.
Why did that matter you ask? In the 1980s, the conference had a team in the Class D, D-1 or D-2 finals eight times. They won six of those title games. Basketball in the conference was always played a high level in those small-town farm gyms and the annual conference tournament at York's City Auditorium was played in front of a full house for a week.
By small school standards, talent was at a premium. The Hawks played eight to nine guys regularly and wore people out. Eickhoff was slowly incorporating a stingy man-to-man defense that strayed from the match-up zone he had run for many years. The reason was two-fold, if I remember correctly: the three-point line had come to high school gyms and his athletes could execute it. Behind this trapping, man-to-man combination, Hampton entered the state tournament giving up a state low 41.7 points per contest.
Indeed, the Hawks were 22-1 entering the weekend. And, in an era where most all D-2 teams had to play up a level, they faced three opponents – Butte, Bradshaw and Hildreth – that won 32 games the whole season. Hampton had already beat D-1 semifinalist Fairmont twice and the Crossroads Conference had no less than five teams ranked the whole season.
But after Hampton breezed through the first two days, Hildreth – finalists four times from 1985-1992 – had the Hawks number in the first half. With the Greyhounds holding a lead late in the second quarter, Eickhoff switched his strategy, but didn't play his hand until after half. His defending champions were down 24-13 at the break.
He abandoned the man defense for the triangle-and-two and Hildreth was shut down. They cut the lead to 33-29 at the end of the third quarter and then went on an 11-1 run in the fourth to take the lead 44-38 before winning 49-43.
"I didn't want to try it in the first half because I didn't want them to make an adjustment," Eickhoff told the Grand Island Independent after the game.
The juniors on that team would play in four state finals – winning the middle two – but, we might argue to this day which teams were better. The first and the last may have been the most talented. My favorite player was an undersized post named Brad Jacobsen. His dad, to no surprise, was also a coach.
Brad turned into one, too. He is now the athletic director at Ashland-Greenwood. 25 years later, he remembered that game almost exactly as he did on the day he played in it and scored 11 points.
"That first half was sad," Jacobsen told the newspapers then. "We weren't shooting real well." Indeed, the Hawks had blown up my shot chart to the tune of 29 percent from the field and 1-for-8 from the free throw line in the first half.
"It was a unique D-2 field," Jacobsen told me recently. "Nobody had real big win totals. Hildreth nearly knocked us off and had us down in the second half and we had to come back and play well to beat them."
Eickhoff would coach 20 more seasons at Hampton – never with a losing record; his final game, fittingly, in Lincoln at the state tournament – and finished his career with a record of 670-229. He'd take five more teams to the state tournament, playing in the finals twice, but never won another state title. In 40 years as the head Hawk, he won three state titles, played for three more and his 2008 team finished in third place.
Like Pritchett earlier that day, he hung a gold medal around his son's neck. His son, Trent, played in three state tournaments and the Hawks won two. That Saturday, he was the only senior on his dad's final championship team.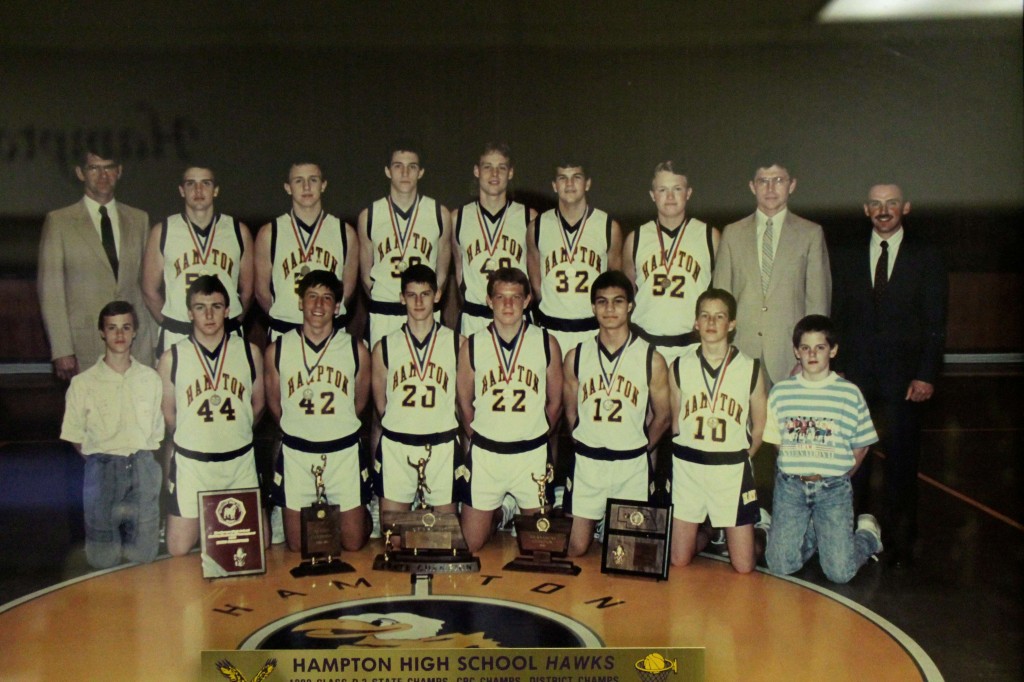 Photo Courtesy of Hampton Public School
***
I'm sure you took a break after the morning session. You caught the Big 8 semis and saw Oklahoma advance with Stacey King and Missouri advance with Doug Smith and Anthony Peeler. Raycom Sports was the best. Heck, maybe you read the story the next day in the paper by some guy named Tom Shatel from the Kansas City Star and Times.
Little did you know what would lie in store for the night session: A packed house before the D-1 game was over, a Richter roar and the end of one of the greatest seasons in Nebraska high school hoops history.
***
As small schools go, Larry Gilson was one of the top coaches in the state. He won 576 games at Maxwell and they won the 1991 Class D-1 title setting a tournament scoring record.
But, he'd seen all he needed to see on Saturday night to make a bold statement about Falls City Sacred Heart; who defended their title in 1989.
"They intimidated us," the coach told the Associated Press after the game. "They're the first team all year long that just took everything away from us. I'd rate them equal to any champion in D that I have seen in 27 years."
Almost 25 years later I sat in the hallway at Grand Island Northwest with head coach Ryan Rathke. He had coached Fairmont the night before against the Irish. I asked him the same question.
"Those teams were about as good as any I can remember, before or since. We were the only team that had the lead on them all season at the half," Rathke noted. "I think it was about 45-40 or something like that. Then Steve Simon just started making elbow jumper after elbow jumper. We couldn't keep up."
Sacred Heart sped away for an 81-64 win that night and beat Maxwell 82-53 in the finals. Buck Sells and Simon scored 22 and 21 points apiece for the Irish. It was as dominate as any state tournament stretch ever seen, the Irish won titles from 1988-1991. Their closest game was a 65-58 championship win over Humphery St. Francis in 1988. They won the three other titles by 29, 20 and 22 points.
Simon would end his four-year career right behind Jason Glock on that state tournament list. Nearly 500 wins later, Goltz is still at it in Falls City. His Irish are on the floor Thursday at Lincoln Southeast at 10:45.
***
Richter Roar: "On rare occasions a roar comes along that is a tidal wave, a heaving earthquake, the pure note that breaks the glass." – Omaha World-Herald prep writer Larry Porter in his 1989 post-season rankings
Troy Glock remembers it well. The full – and then some – Bob Devaney Sports Center, the shot and then the sound.
"It was crazy," he told me last week. "You know, we had won the tournament in 1988, but we still were kind of the underdog. I'd guess that about 80 percent of the (Sports Center) was cheering for us."
Ribble, the Millard South all-stater, set the stage pretty well.
"We got there and there wasn't a seat in the place," he told me Saturday. "We literally had to climb all the way to the top of the Sports Center just to get a seat. You knew it was going to be a special night."
It's the stuff of legend, really, that Class B title game between Wahoo and Lincoln Pius X. The Warriors had defeated Pius in the 1988 championship, but both newspapers ranked Pius number one in the preseason what with their whole team back and Troy Glock as Wahoo's only returning starter. The Warriors were second.
In holding up to their end of the bargain, both teams entered the 7:00 game on Saturday night with undefeated records. The Warriors winning streak was at 37 games, longest in the state at the time.
Wahoo jumped to an early 17-11 lead, but gave up a 16-0 run to end the first half. With six minutes left it was 49-33 Pius after all-stater Kelly Hendricks hit a fade away jumper. But, for some reason, Wahoo didn't quit.
With just under three minutes left, the Warriors had made it 55-45 and Anderson gave his two scrawny sophomore shooters – Ryan Eddie and Bernie Inbody – a last chance to make some shots.
"When we got it back to that 10-point mark," Anderson told World-Herald staff writer Todd Henrichs after the game, "all of the sudden, I started to believe. I kept saying if we could just a get a three. So, I told the sophomores we need points, start firing."
An Eddie three at 1:52 and it was 57-48. At 59-50, Troy's brother Jason, then just a sophomore, scored five in a row, and Anderson used his last timeout at 28 seconds left. I could write about the rest, or you could watch it. Either way, you won't believe it.
With three seconds left, Troy Glock's three had produced that Richter Roar and forced overtime. After Eddie hit a three to start the extra session, the Warriors never looked back before winning 68-66.
"We had all the momentum in overtime," Troy said, 25 years later. "There was so much build up to that game. I remember us being really focused. As a high school player to be out there and to look up at all those people, it was special. I'll never forget that."
Troy Glock, now an assistant principal and athletic director at Douglas County West, confessed last week that he was a passer on that team. He set up the other players to score and he enjoyed doing it. Then, I went and found the box score. He scored 23 points that night to lead all scorers in one the best games in state high school history; 21 one of them after halftime, 11 in the fourth quarter. His kid brother – who would score more state tournament points than anyone else – had 14.
"You know, we loved playing together," Troy told me. "That year was really special, when I was a senior and he was a sophomore. He was getting really good. He was the scorer and I was the passer. I really took pride in that. We are still really close today."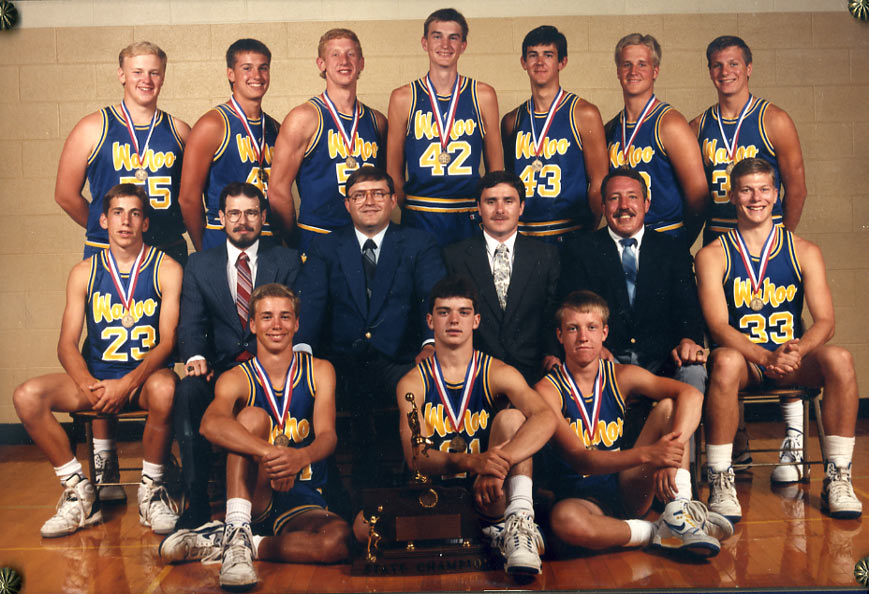 Photo Courtesy of Wahoo Basketball
***
Could they top that game at 9:00? Surely not, but by halftime of the Class A game between Millard South and Columbus it was becoming evident to the crowd that another classic was at hand.
The Indians and coach Larry Ribble were 24-0 and Columbus was 20-1 with their all-stater Steve Scheidegger. It was 24-20 at the half, Millard South. It was back-and-forth the entire second half. With 17 seconds left, Scheidegger – who had 18 points – passed the ball to Chris Roth for a tying bucket.
The Millard South coach drew a play for his son, but when you play together as much as Dale Ribble and his buddies did sometimes you have improvise. Ribble has a seam up the center of the court and as Columbus focused on the Indians other all-stater – Brian Nielsen – Ribble hits Matt Kelly with a no-look pass and the winning bucket.
In 1989, you could rush the floor and that's exactly what happened. Ribble, the third coach's son to wear a gold medal that day, found his dad.
"It was something that dad and I really wanted to share," Dale Ribble told me. "Basketball was such a part of my life. You learned all the life lessons: hard work, discipline, humility, how to bounce back. But, for us, it was fun, too."
Two days later, World-Herald writer Porter asked his readers to take to heart how special the Indians were in this undefeated season.
"Twenty years from now when a new generation of high school basketball fans looks at the scores Millard South posted in the 1989 state tournament, the conclusion will be that the Class A field was weaker than normal.
"But, fans 20 years from now had better examine the Class A tourney field, before drawing that conclusion. Lincoln East and Bellevue West each carried offensive averages of better than 70 points.
"Also included in the field was the highest-scoring team in state history. Alliance finished the season with a per game average of 94.39.
"Millard South did during the tournament what it did throughout the season. It defused opponents by unleashing one of the strongest defensive units in history. The Indians yielded their 25 victims an average of 47.6 points."
The Indians were the first undefeated team in Class A since 1960. And the late Al Schnabel, the Discoverer coach, might have summed the whole thing up to Stu Pospisil better than anybody.
"A coach's son, driving in, reads the defense and throws to the open man," Schnabel said. "And he makes it."
***
So, I wonder if 1989 lasted. If any of those players had an impact?
In the fall of 1995, at an on-campus house on 9th Street in Hastings, I met Dale Ribble. I was the manager for the Hastings College basketball team. He was Mike Trader's new graduate assistant.
After all the years that I played basketball, Dale finally taught me how to shoot. I wish I could count the number of H-O-R-S-E games and hours of film we broke down that season. We played intramural 3-on-3 hoops together and won the whole stinking thing – call me a cheater for having him on my team if you wish.
Just a year after that state tournament win, Ribble was guarding North Carolina's King Rice in the NCAA Tournament. He started during his junior and senior season at Southwest Missouri State. He played in front of multiple sold out arenas during his college years. For the current Missouri-St. Louis assistant, basketball has been his whole life.
"But, I don't know that anything really compares to that night," he told me. "To be a part of a team that is your best friends from the time you grew up, through junior high. To play with them for a state championship was something that was really special."
If you coach at Douglas County West or played basketball at Grand Island Northwest, you probably have learned a little bit from 1989.
"The one thing I always remember about our Wahoo teams was our work ethic," Troy Glock told me. "As an AD, I'm always trying to impress that on our coaches. We don't always have to have the best players, but we should be able to work hard. We are trying to build on that."
Jacobsen was floored when he opened up the program that he still has in a scrapbook. He counted no fewer than 18 assistant coaches in the 1989 program who got the chance to coach their own teams since.
"So many of the coaches were great leaders for their own teams, but, created so many future head coaches," Jacobsen said. "Many of these guys were so willing to help and mentor young coaches and I consider myself very lucky to have many positive experiences with several of the coaches from that 1989 tournament."
Steve Spongberg took Sutton to the state tournament 11 more times. They were upset the next year by Wisner-Pilger trying to defend their title. They won another title in 2004 and played for titles in 2003 and last year. When the Mustangs upset Doniphan-Trumbull last week for a state tournament berth, Spongberg was there to cheer them and his long-time assistant Jon Ladehoff to victory.
"They are a great group of kids," he told me last week. "It was great to see them get that win last week."
After sitting out a season and watching Hampton play in the state finals in 2010, Eickhoff returned to the state tournament bench in 2011 and 2012. He was an assistant for Lincoln North Star – coaching his grandson Eric.
But his impact still hasn't stopped. This Thursday, he'll be there again watching is son-in-law Cameron Hudson coach his 26-1 High Plains Storm at the state tournament for the second straight season. He's probably had a hand in the game plan, too.
***
The story was supposed to end right there. For all intents and purposes, I was done with this project. But, last Friday afternoon at the glitzy new home of the state basketball tournament I found out 1989's lasting impact, mostly by accident. We hopped in the car and my dad and I took my two oldest girls to the 2014 Girls Class B state semifinals.
We watched Grand Island Northwest defeat Norris, 54-44 for another berth in the Class B state finals. They had beaten the Titans last year in double overtime for a state championship. Surely, Glock, who coached those girls until they were sophomores – and led them to the 2012 state tournament – was smiling somewhere.
Northwest coach Mike Herzberg has long been a friend. He coached the Aurora boys with great success. His wife, Holly, is the superintendent at Hampton and her first year at the school was when I was a senior. As the girls got restless, and Pius was having their way with Holdrege in the other semifinal, we went for a walk around Pinnacle Bank arena.
Not long into our stroll, I looked down and saw Herzberg sitting with coach Eickhoff. I had to stop down and say hello, take in some basketball zen if you will. They were game-planning a way to stop Pius and their leading scorer, Maddie Simon. I won't ask you to guess who her father is.
I was so excited to see coach, I ran right by Streit – still a family friend. He and my dad shared a bench together until 1985 when we moved to Hampton. I was surrounded by nearly every basketball influence in my life. I was introducing my daughters to coach and my dad was sitting three rows up with one of his best friends and a coaching mentor.
Streit and I shared some laughs about 1989; his Dragons really were a Cinderella team at state. Dad and I had gone to York to watch them beat Osceola in the district final and wished them well in Lincoln. He looked at the AP headline from that 1989 game: Perkins County gets another; crushes Deshler for C-2 title.
"They didn't crush us, did they," he asked.
"Well, they beat you by 20," I said. He looked at the story. "Yeah, they were pretty good," he said.
As Herzberg and the team left, the words from Eickhoff were – like always – simple. "Get some rest," he told the Northwest coach. "You'll need it tomorrow."
The next day, with a little bit of that match-up zone they used to run in the Hampton High gym, Northwest defeated Lincoln Pius to win the Class B state championship. Herzberg, with Ryan Rathke's daughter Hannah on his team, had won back-to-back titles, just like the guy sitting next to him on Friday afternoon had done in 1989.
Maybe, just maybe, they can still talk about it in 25 years.